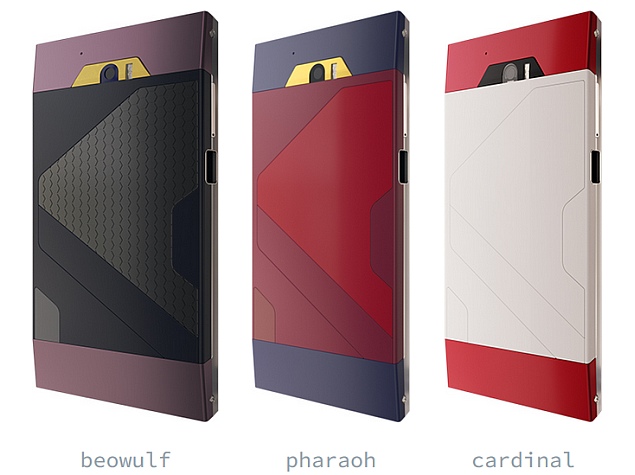 The price of the recently unveiled 'unhackable, unbreakable, and waterproof' smartphone, the Turing Phone, has been revealed by the company.
Notably however, the smartphone is not yet up for pre-orders, and users can only 'reserve' the phone right now in a show of interest. Seen on the company site, the Turing Phone will be available in three colour variants – Beowolf, Pharaoh, and Cardinal, as seen above.
As of now, no details about when the smartphone will be available to buy, or ship to customers, have been revealed.
All three colour variants will be available in 16GB, 64GB, and 128GB variants, priced at $610 (roughly Rs. 39,000), $740 (roughly Rs. 47,300), and $870 (roughly Rs. 55,700) respectively. After selecting their specific colour variant and inbuilt storage, users are requested to enter their contact details to reserve the smartphone. The company appears to have decided the forego the 32GB model first announced, and replace it with a 128GB model.
(Also see: Google's Android for Work Expands to 40 Partners Including Blackphone)
Users can activate the Turing Phone, developed by San Francisco-based Turing Robotic Industries, via a fingerprint reader on the side of the device. The smartphone's end-to-end encryption is built into most of the core apps on the phone.
The 5.5-inch phone has no USB port and no headphone jack. It is made of a material called liquidmorphium that is stronger than steel or aluminium and apparently the next big thing in phones.
Apple is already using the material in small quantities in its iPhone 6 models.
The phone is also extraordinarily waterproof owing to a nano-coating on the internals. No rubber is used and everything is accessible and open.
If you put the Turing Phone in the water, it is not designed to be sealed and water will get in. Just pull it out, shake it off and you are ready to use it without any problem.
It runs on Android 5.1 Lollipop with Turing Aemaeth UI. Other specifications of the Turing Phone include a 5.5-inch full-HD (1080×1920 pixel) display; 2.5GHz quad-core Snapdragon 801 SoC; 3GB of RAM; a 13-megapixel rear camera with dual-LED flash; an 8-megapixel front-facing camera; 4G LTE, Wi-Fi 802.11ac, Bluetooth 4.0 LE; NFC; GPS/ Glonass; and a non-removable 3000mAh battery. Sensors include fingerprint, accelerometer, gyroscope, magnetometer, proximity, ambient light, temperature, and humidity.
Written with inputs from IANS